Vitality Extracts Reviews: Does it work? Or is it a scam?
Vitality Extracts has received a lot of positive reviews from customers. But on this Vitality Extracts Review we will dig deeper into the variety products it offers.
Are you ready?
What is Vitality Extract?
Vitality Extracts offers a variety of products from diffuser jewelry to essential oils, you will be able to find the product you might be looking for.
There is not much to say about the company as their own website does not tell their story. So far, all I have read about them is that a good amount of their profit goes to their charity partners.
The company is socially relevant. J
Now, let us discuss some of their products.
Essential Oils
Essential oils have different benefits, studies say. Depending on the scent you have, it may induce sleep, relieve you of stress and some are even used for massage therapy.
Vitality extracts offers many scents at a lower price compared to competitors. They also offer essential oils on roll-ons which are much easier to use.
Energy Essential oils – this helps to provide you a better mood, increase your energy and lets your mind work better. It is composed of rosemary, juniper berry and needle, lemongrass, nutmeg, silver fir needle and nutmeg. It is said to reduce inflammation, enhance blood flow, revives your mind and body and reduce stress and anxiety.
Stress Away Essential oil – as the name suggests, this essential oil relieves you from stress. It is composed of sweet orange, patchouli, bergamot and pink grapefruit. Aside from relieving you from stress, this also enhance your mental alertness and memory
Deep Muscle Essential oil – this helps relieve your muscle from pain and aches. It may also be used whenever your head aches. It has chamomile oil, wintergreen, peppermint and eucalyptus.
Lavender Essential oil – as you might know, lavender is one of the most popular oils. It is used to minimize anxiety as well as emotional stress. It may also be used to cure wounds and burns. Lavender can also improve your sleeping pattern, decrease acne marks and slow your skin's aging.
These are just few of the different essential oils that Vitality Extracts offers.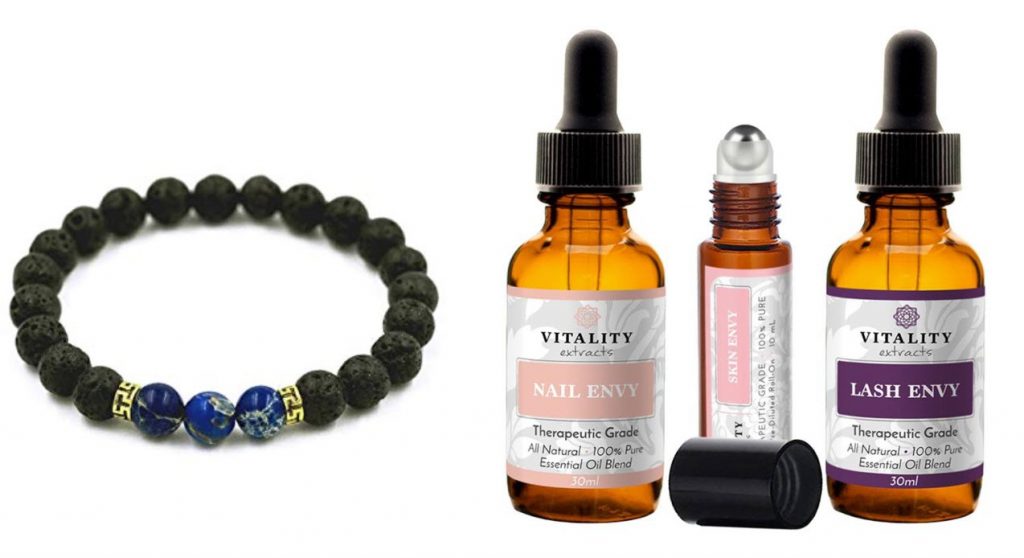 Diffuser Bracelets
Chakra Diffuser Bracelet – The beads in this bracelet are made up of different materials but more than the materials, Vitality Extracts emphasized the importance of the colors. It is composed of 7 colors – white/violet, indigo, light blue, green/pink, yellow/brown, orange and red. Each color symbolizes something from finances, to romance, health etc..
Sacred Arrow Diffuser Bracelet – This bracelet is believed to protect and strengthen our relationship with earth. It symbolizes power, endurance, courage and vitality.
Serenity Diffuser Bracelet – This bracelet claims that it can help you sleep better, relieve you of stress and enhances your self-awareness
Diffuser Necklace
Pure Diffuser Necklace – This necklace has lava stones which are often used to heal your emotions and spirit. It calms emotions and helps you re-connect with earth. This is more effective if an essential oil is dropped on the lava beads.
Loving Diffuser Necklace – This has the same benefit as Pure Diffuser Necklace.
Connected Diffuser Necklace
Aside from these 3 products mentioned above, Vitality Extracts also offers Diffuser earrings, kids bracelet and dog oils.
Advantages 
We have already discussed the benefits of each products and now we will talk about the benefits of ordering from Vitality Extract.
Positive reviews from users
Free shipping
Discounts are offered from the website upon purchase
Not an MLM wherein most of the companies that sell essential oils are MLM
Charity work!!!
Cheaper than the competition
Disadvantages 
No money back guarantee
They are not that transparent about where they got the stones and such which is often published by other essential oil companies
Real Reviews from Real Customers
Positive Reviews:
"I have been very much addicted to lavastone diffuser bracelets! Thank you Vitality Extracts!" – Shawna Lee Williams
"I bought 2 diffuser bracelet for me and my sister. We both love it! The oil scent lasts all day." – Gloria L
"I have had migraine for years and I would normally put peppermint to neck and shoulder but it was not that effective. When I purchased the Sacred Arrow Bracelet, I simply put the peppermint and fennel on it and I sniff it. In less than 30 minutes, I feel better!. I will definitely purchase more!" – Katie C
"I have been focusing and meditating on inner peace. So I got lost on Vitality Extracts page and I bought the Stress Away oil along with howlite bracelet.Every morning I will put 2 drops of the oil on my bracelet and I just feel relaxed. My energy level is also better with it." – Dashawn A.
Not so positive Reviews:
"It came as the picture shows. It holds the oil perfectly and the oils stays there for quite a while. The only issue I have with the bracelet is that the elastic band easily wears off! I only used it for a week and now I can't use it anymore. Just be careful with the bracelet." – Kerri R
"The gem stones are just fake. I can't say the lava stones are too. I guess I just have to wait and see for myself." – Amber
Final Thoughts..
So based on my Vitality Extracts Review, it sounds like Vitality Extracts is a reputable company. Customers are satisfied with the products they sell and even those who are not that satisfied say that the product works.
I guess the only thing that Vitality Extracts needs to work on is the knot that holds their bracelets. Other than that, I have not seen any other complains about their products.
Overall, I'd say that Vitality Extracts is a legit company. It may have some flaws but every company does, right?
So if you are ready to purchase, visit their website at https://www.vitalityextracts.com
You may also call their Customer service hotline at 844 429 6580.